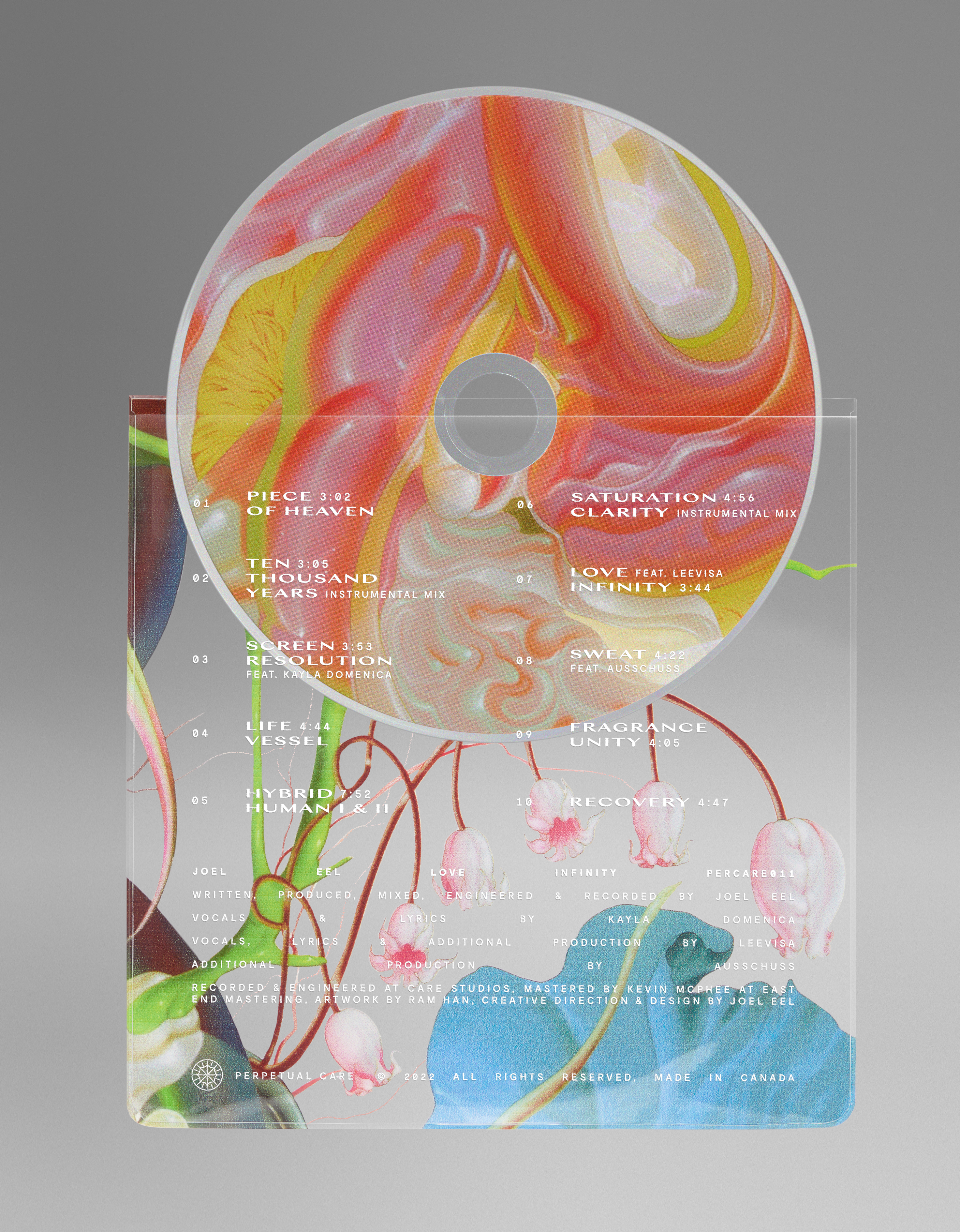 PERCARE 011 - JOEL EEL - LOVE INFINITY | PERCARE 011 - JOEL EEL - LOVE INFINITY PERCARE 011 - JOEL EEL - LOVE INFINITY | PERCARE 011 - JOEL EEL - LOVE INFINITY | PERCARE 011 - JOEL EEL - LOVE INFINITY | PERCARE 011 - JOEL EEL - LOVE INFINITY | PERCARE 011 - JOEL EEL - LOVE INFINITY
In 2020, Joel Eel was diagnosed with a heart disease called atrial fibrillation (A-fib) — known to cause rapid heart palpitations, chest pain, shortness of breath and a heart rate of 203 bpm (faster than trance). Through the condition, he experienced a strenuous amount of suffering, leading to multiple visits to the emergency room.
"Battling my condition, I felt crippled by the disease. The experience caused a significant amount of distress to my physical and mental state. I needed to find purpose."
While exploring various forms of healing as an attempt to manage suffering, Eel imagined a place for reason, creating his third full length album "Love Infinity."
Refining a body of work spanning over the past 4 years — a painstaking surgical process, he dismantles his nostalgic industrial edge, crossing over somewhere between left field dance music & celestial pop. Eel expands the journey featuring vocal collaborations from Leevisa, one of Seoul's rising stars in underground music on the title "Love Infinity," in addition to a deity like vocal presence from Toronto based producer and DJ Kayla Domenica on "Screen Resolution," and a club-infused track with Berlin based producer and sound experimentalist, Ausschuss on "Sweat."
Love Infinity amalgamates melancholic melodies, emotional strength, the discovery of soothing textures and the desire for beautiful compositions. Finding a way to deal with suffering, the artist steps onto new vibrations.
A portion of the sales will be donated to the heart and stroke foundation, more Info:
https://www.heartandstroke.ca/
Track list
1. Piece of Heaven
2. Ten Thousand Years
3. Screen Resolution (feat. Kayla Domenica)
4. Life Vessel
5. Hybrid Human Pt. I
6. Hybrid Human Pt. II
7. Saturation Clarity
8. Love Infinity (feat. Leevisa)
9. Sweat (feat. Ausschuss)
10. Fragrance Unity
11. Recovery
Limited Edition of 100 Compact Discs w/ Custom Vinyl Sleeve
- Limited Edition Artwork
- Full Color printing on Compact Disc
- Laser Inscription Mirror Band
- 7 mm transparent vinyl sleeve, Spot White & CMYK printing
- Extended Version of Hybrid Human
- Additional Hidden Tracks
- Illustration by Ram Han
- Art Direction & Design by Joel Eel
- Photographs by Aabid Youssef
Credits
Written, Produced, Mixed, Engineered & Recorded by Joel Eel
Vocals, & Lyrics by Kayla Domenica on Screen Resolution
Vocals, Lyrics, Additional Production by Leevisa on Love Infinity
Additional Production by Ausshcuss on Sweat
Recorded & Engineered at Care Studios
Mastered by Kevin Mcphee at East End Mastering
Creative Direction by Joel Eel
Artwork by Ram Han
Released on May 12, 2022.
Buy on Bandcamp ︎︎︎
|
Stream ︎︎︎